Attention Retirees: Take Control of Your Financial Future with Birch Gold Group Today!
Birch Gold Group helps Americans diversify their savings with physical precious metals, including gold, silver, platinum and palladium. Customers can purchase for physical possession or they can rollover an eligible tax-deferred retirement account into a Precious Metals IRA -- with zero tax implications or penalties.
Accounts that are eligible for a rollover include Traditional, Roth, SEP and SIMPLE IRAs. Additionally, many employer-sponsored retirement savings plans, such as a 401(k) and 403(b), are also eligible to be transferred to a Precious Metals IRA.
Regardless of the vehicle used to purchase physical precious metals, customers are generally motivated by a desire to protect their savings against a volatile stock market, hedge against inflation, or guard against geopolitical instability.
PLEASE NOTE: Only residents of the United States are eligible for Birch Gold's services. Any traffic from outside of the United States will not be allowed.
Is Birch Gold Right For You?
MINIMUM INVESTMENT AMOUNT
$10,000 for both IRA and Cash purchases (physical delivery)
FEE BREAKDOWN
Can vary by custodian, but here are fees for the custodian that most of their customers use:
• One-time: $50 setup, $30 wire transfer
• Annual: $100 storage, $100 management
ONGOING PROMOTIONS
• First year fees waived on IRAs over $50,000
• Free shipping for cash purchases over $10,000
• Up to $10,000 in free precious metals on qualified purchases
STORAGE OPTIONS
For IRAs, depository options include the Delaware Depository, Brink's and International Depository Services. Among these options, locations include Delaware, Los Angeles, New York City, Dallas and Seal Beach, CA.
IRA PROCESS
• Speak with a Precious Metals Specialist to explain motivations for interest in gold and silver.
• If interest in moving forward, speak with an IRA Specialist, who will learn about their current retirement account and help to confirm rollover eligibility.
• If eligible to convert existing retirement funds into a Precious Metals IRA, create an account with custodian capable of handling self-directed IRAs. Birch Gold can suggest a few options, and will assist with completing paperwork.
• Rollover funds from existing retirement account to new self-directed IRA. Again, Birch Gold's IRA Specialists can assist in this process.
• With funds in new self-directed IRA, Birch Gold's Precious Metals Specialists facilitate the purchase of the customer's desired precious metals.
• Metals are stored on the customer's behalf at an approved depository, and insured up to $1 billion. Customer has the option for segregated or non-segregated storage.
CASH PURCHASE PROCESS
• Speak with a Precious Metals Specialist to explain motivations for interest in gold and silver.
• If interest in moving forward, send funds to Birch Gold Group via check or bank wire.
• Upon receipt of funds, Birch Gold's Precious Metals Specialists facilitate the purchase of the customer's desired precious metals.
• Metals are shipped (fully insured) directly to the customer's location of choice.
CUSTODIAN OPTIONS
Currently, Birch Gold Group primarily works with Equity Trust, however, they will work with any custodian that their customers would like them to.
BUYBACK OPTIONS
Birch Gold Group will buy back any metals that they have sold to their customers, at zero additional charge.
WHAT MAKES BIRCH GOLD UNIQUE
Since 2003, Birch Gold became a leading dealer of physical precious metals in the United States. Today, their dynamic team of former wealth managers, financial advisors, and commodity brokers continue to help customers diversify their portfolios with gold, silver, platinum, and palladium.
Seems fitting that they are headquartered across the street from the Warner Bros. Studios in the Golden State of California—Burbank, specifically—from where they proudly serve a diverse base of Americans from all 50 states.
They are regularly featured on major news and media outlets, including the Ben Shapiro Show, where they discuss the factors that lead to market instability and cycles of growth.
At Birch Gold Group, they believe in empowering their customers through knowledge.
As a customer, you will have an opportunity to express all of your objectives, motivations and concerns. You will have an opportunity to ask any question – about precious metals or our company – and they'll be an open book to you.
And before you make any decision, they will make sure you understand the options best suited to you, including the pros and cons of each.
With this knowledge, you will act with confidence.
The rigorous set of standards that they hold themselves to include:
• Customer Empowerment
• Educational
• Empathy
• Ethical
• Transparency
• Efficiency
Birch Gold Has An A+ With The Better Business Bureau And Have Been In Business Since 2003
Looking at their reviews on Better Business Bureau it's plain to see that this company is one of the best around. Customers praise the fast shipping and courteous but professional customer service. Birch Gold boasts an ASTOUNDING roaster of celebrity endorsements as well.
An All-Star Roaster Of Celebrity Endorsements
Birch Gold boasts an astounding amount of celebrity and influential endorsements. Here is a small list of their endorsements as they have so many it would be too long to list:
"Ben Shapiro is an attorney, author and host of The Ben Shapiro Show. He's widely respected as one of the leading voices in the neoconservative movement. At age 17, he became the youngest nationally-syndicated columnist in the U.S."
"Steve Bannon is a veteran and former investment banker turned political strategist and media executive. He was the Trump administration's chief strategist and now hosts the wildly popular War Room TV show."
"Dr. Ron Paul is a physician, author and a long-time advocate of sound money and common-sense economics. He now focuses his time advocating for limited government, educating Americans on our Founding Fathers' principles of freedom and liberty."
"Jordan B. Peterson is a Canadian psychologist and professor whose provocative cultural and political perspective has brought international attention. In addition to hosting a popular radio show, he's a best-selling author whose work has been translated into 50 languages."
"Kirk Cameron discusses the issues Christians grapple with on a daily basis with a line-up of compassionate, well-informed guests. He helps listeners find practical steps that anyone can use throughout their lives to bring just a little bit more of Heaven to Earth."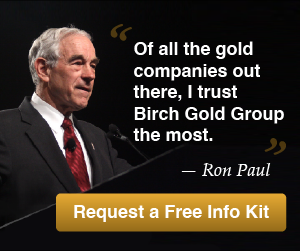 Let Birch Gold Group Help You Fight BACK At Inflation Today!
In conclusion, Birch Gold Group is an extremely trusted Gold IRA Company. They have been in business for 20 years and have an amazing list of celebrity and influential endorsements. Their lower minimum investment fees make them quite an attractive option as well. With Birch Gold, you can become a powerful dragon, guarding your precious gold from the terrible Knight known as, "Inflation".
Signup Today and get started on taking control of your financial future!